| | PCR | Rapid antigen test |
| --- | --- | --- |
| Price | €80 | €10 |
| Difficulty | Very high | Low |
| Time results | 1-3 days | 30 min |
| Reliability | 5/5 | 3/5 |
| Technology | Molecular biology | Colorimetry |
Rapid antigen test (colorimetry)
The virus enters the body and generates infection, as a result, antigens are produced, which are proteins that the virus has around (spicules). The spicules act as keys to adhere and penetrate the cell, infecting it.
If the test detects proteins, a paper is stained with bands (colorimetry) and indicates that you are infected.
Asymptomatic patients do not generate infection, therefore antigens (proteins) are not produced and the paper is not stained with bands.
In both tests, the sample is taken from the nasopharynx with a swab.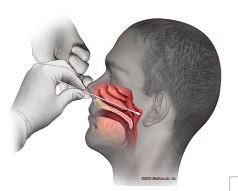 When to perform a rapid antigen test?