Description
WHAT IS FOOD INTOLERANCE?
Food intolerance is an adverse reaction of the metabolism itself to the intake of a certain food or component of a food.
In most cases, this reaction is due to alterations in food metabolism, which, due to genetic origin or acquired over time, prevent the digestion, assimilation and use of certain substances that food contains.
Food intolerance affects each person differently: foods that are good for one person may be bad for another. Therefore, each case must be analyzed through a personalized clinical study, the Food Sensitivity test.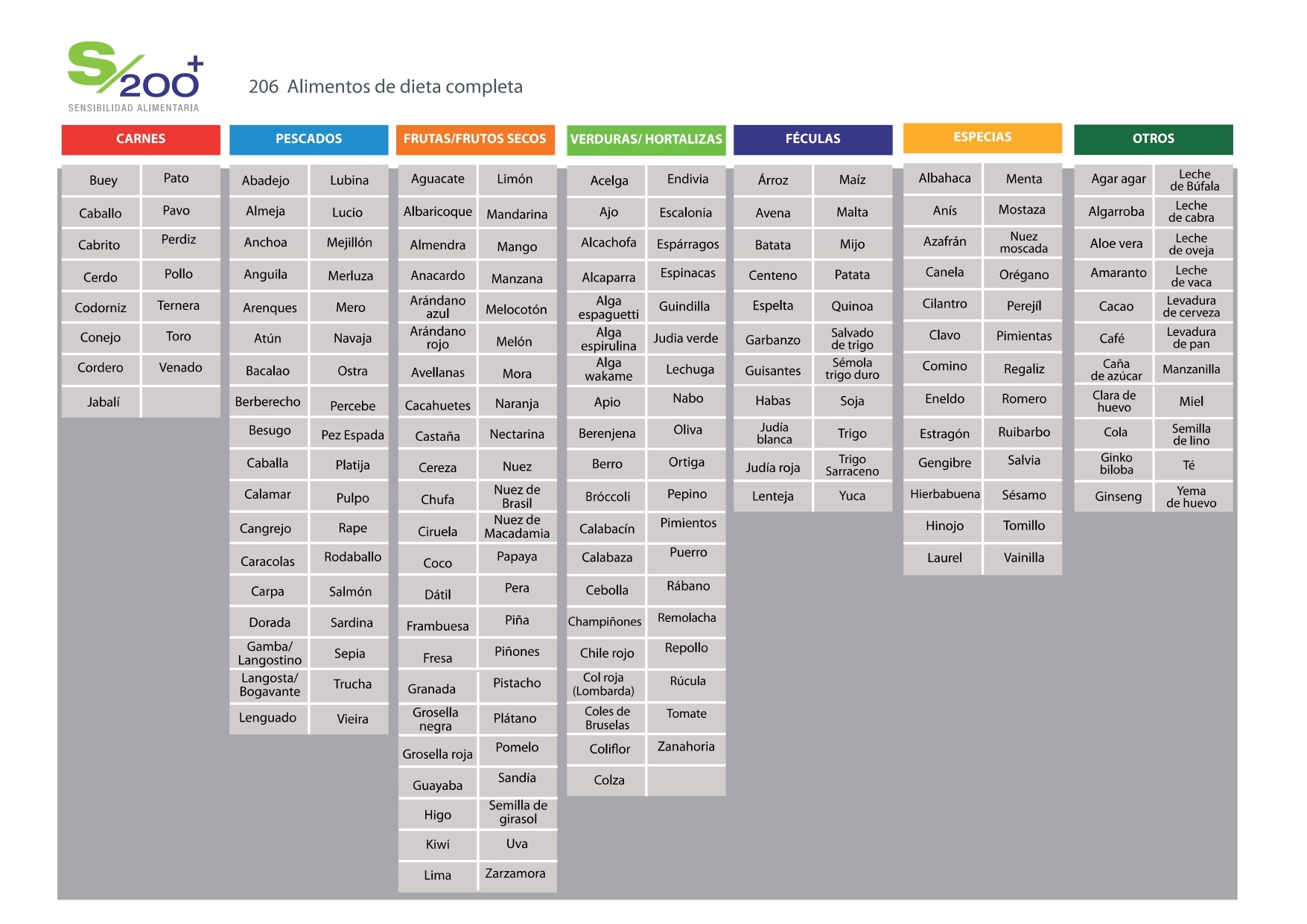 WHAT DOES THE FOOD SENSITIVITY TEST CONSIST OF?
It is a test carried out in the laboratory capable of assessing the non-allergic response that the immune system of some people triggers specifically against certain foods. The assessment of this immunological reaction is carried out by quantifying the levels of specific IgG antibodies against a series of foods using an enzyme-linked immunosorbent assay (ELISA). The suppression of the diet of foods against which high levels of IgG have been detected will cause the reduction or suppression of the symptoms derived from said immune reaction.
DISORDERS THAT IT CAUSES
Digestive level: Feeling of bloating (bloating), heavy digestion (dyspepsia), burning, constipation, diarrhea, mouth sores (thrush), irritable bowel.
Dermatological level: Eczema, urticaria, dermatitis, acne.
Respiratory level: Rhinitis, cough, bronchitis, asthma.
Joint level: Stiffness, pain.
Tendency to obesity: Difficulty losing weight, fluid retention.
Behavioral disturbances: Child hyperactivity, autism, depression.
General: tiredness, fibromyalgia, anxiety, headaches.
WHAT ADVANTAGES DOES OUR FOOD SENSITIVITY TEST PROVIDE?
Allows you to choose between 4 different food panels, including a specific one for vegetarians
S / 200 + : IgG against more than 200 foods
S / 132 + : IgG against 132 foods
S / Basic + : IgG against 88 foods of the Mediterranean diet
S / V150 + : IgG against more than 150 ovo-lacteal-ovo diet foods
Greater reliability: analyze each food in duplicate.
Uses the most advanced microarray technology
Requires little blood volume
Quick results: 7 business days from the completion of the test.
I NEED A FOOD SENSITIVITY NETWORK STUDY. WHAT SHOULD I DO?
For a FOOD SENSITIVITY NETWORK:
You do not need to be fasting.
You should not take antihistamines, immunosuppressants or corticosteroids during the 7 days prior to taking samples (do not stop the treatments without consulting your doctor first).
We will contact you to give you an appointment.